OFFICE HOURS
| | |
| --- | --- |
| Monday – Thursday | 8:00 – 5:00 |
| Friday – Sunday | Closed |
Welcome to FamilyCare Dental
General & Specialty Dentist in Escondido, CA
OUR FAMILY OF PATIENTS
With more than 45 years of combined experience, our trusted and patient-focused dentists have been providing patients with excellent dental care and a personalized, comfortable service. Our dental office based in Escondido, CA offers various dental services such as general and cosmetic dentistry, cleaning and prevention, treatments for periodontal diseases, restorations and others.
OUR MAIN VALUES
For many years, our top rated dentists have been providing our patients with exceptional dental services with an expert approach. We know that maintaining your oral health is necessary for your general well-being, but your dental visits don't have to be hard or stressful! Our whole dental team works to keep our patients happy and satisfied.
We're pleased to welcome new patients to our dental office,
and we invite you to schedule your next appointment with us!

WHY CHOOSE FAMILYCARE DENTAL
Our Dentistry practice offers a wide range of services so patients can receive the care they need all under one roof. Whether you're looking for a compassionate practice for a dental checkup or grandma has decided to invest in dentures, our seasoned team can help you and your family obtain optimal oral health. When it comes to your family's smiles, we're here to provide professional and attentive care, no matter your unique dental needs. Learn more about our full-service dental practice and how we can help make your dream smile a reality.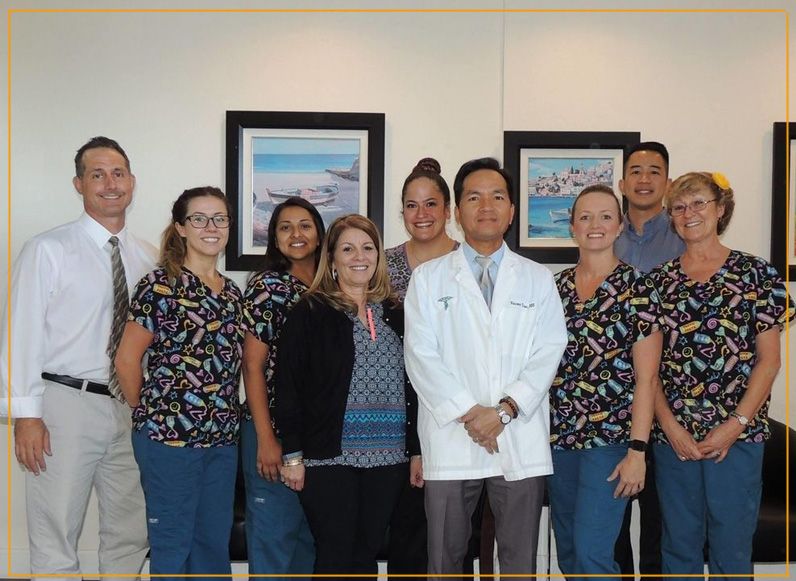 SOME OF THE SERVICES WE PERFORM INCLUDE:
All practicing dentists in the U.S. have gained a DDS (doctor of dental surgery) or a DMD (doctor of dental medicine) degree. The two degrees are basically similar, the only difference being that that some dental schools award one type of degree and others – the other. Commonly, minimum three years of undergraduate education in addition to four years of dental school are required to practice as general dentist. A supplementary post-graduate training is necessary to become a dental specialist.

TESTIMONIALS
Dear Familycare Dental,

My thanks to your full staff for the courtesy and honesty shown to me in replacing my cap.

Enjoy your morning!
Rob,

Josh and I wanted to personally thank you for assisting us with our dental care. We really appreciate it. Hope you enjoy.
Dear Dr. Tran,

I would like to give my thanks to Dr. Tran and assistant Rose for being so understanding and caring while trying to make me more comfortable. Thank you also, Mr. Levin, for making sure we were taken care of.

Thank you
Dear Robert,

Thank you very much Rob, for helping me out. That meant a lot to me, and I just wanted you to know that I am very greatful. Hope you have a nice day.